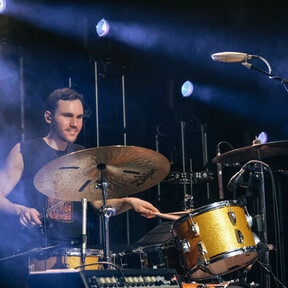 Kevin McGowan graduated from Berklee college of Music in May 2013 with a B.A. in drum set performance. While at Berklee, Kevin studied with Terri Lyne Carrington, Casey Scheuerell, and Kim Plainfield. From August 2013- December 2013 Kevin was the house drummer in the Orchestra on board the "Sun Princess" cruiseship.
As an educator, Kevin has taught private drum lessons at his home studio since 2014. While simultaneously teaching his own students in early 2014, McGowan was a private drum instructor at the 'Long Island Drum Center' in Plainview, NY and the 'School of Rock' in Rosyln, NY. Since the spring of 2014, Kevin has also taught private lessons at the 'School of Rock' in Nashville and Franklin, TN. Kevin also taught as a substitute drum instructor at the former 'Gene Ford Music' in Brentwood, TN. In addition, McGowan was a private drum instructor at the 'Pro Music Academy' in Berry Hill (Nashville, TN) from 2015-2019.
The New York native moved to Nashville in May 2014 and started touring and recording with a variety of different artists. In 2015 McGowan started touring with pop-country artist named Rainey Qualley who was signed with CAA at the time. In 2016 Kevin started touring with a band called "The Sisterhood Band" who were signed to Sony Nashville. Kevin has backed up other Nashville artists including Waylon Payne and Daniel Donato.
In March 2016 Kevin started touring with "Larkin Poe" who he still tours with to this day. Alongside Larkin Poe, McGowan has toured in over 29 countries and performed at major festivals including Bonnaroo, Glastonbury (UK), Lollapalooza, Byron Bay Blues Fest (AUS), Vancouver Folk Fest (CA), Monterey Jazz Fest, and Mahindra Blues Fest (India) to name a few. Larkin Poe has toured with/ supported acts including Bob Seger, Queen, ZZ Top, and Robert Plant. In the fall of 2016 McGowan started touring and recording with pop/country artist Jessie James Decker
who is currently signed with Warner Nashville/WME. Kevin recorded drums on Jessie James' album "Blackbird Sessions" which was released under Sony Epic in 2017. Other recording credits include Larkin Poe's latest album, "Self-Made Man" (June 2020); "Larkin Poe on Audiotree Live" by Larkin Poe; "Road Less Traveled" by Alyssa Bonagura and "Afraid of Everything" by Harrison Whitford.
No followed people